Managed Services
Reliable IT management support and computer network maintenance for businesses in Bismarck, Mandan, Dickinson and throughout North Dakota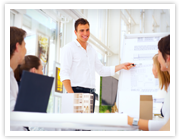 Is constant downtime a recurring theme in your business, instead of the constant productivity you long for? If you find yourself stressed out and preoccupied with IT support issues, NRG can help.
Our proactive IT support is backed by a professional team of experts, so you can rely on us for all of your IT management issues in Bismarck, Mandan, Dickinson and throughout North Dakota.
Managed Services from NRG Technology Services can help you:
Focus on your core business - while our IT experts handle your technology
Eliminate costly downtime - with IT solutions that keep your business running smoothly
Eliminate budgeting surprises - with a fixed monthly fee that covers your technology needs
Rest assured - with top notch security systems for all your business technology
Get down to brass tacks with your own business concerns while we assume your technology worries.
NRG Technology Services works with you to ensure you're getting the most out of your business IT. Serving Bismarck, Mandan, Dickinson, Jamestown and throughout North Dakota, we act as your partner in providing the IT management support and computer network maintenance that put you in a position to prosper.
Whether your business is in need of computer network installation, network and server support, IT support management, computer repair and maintenance services, network consulting services, computer IT support and wireless network services, or remote and on-site support, we have the answer.
Our dedicated professionals help you optimize your IT investment, reduce technology-related stress, and bring your focus back to your core business. With round the clock excellence in computer network maintenance, our team of professionals frees up your business to move upward and outward.