Business Continuity Planning
Data Backup and Disaster Recovery ensuring the long term success of your business in Bismarck, Mandan, Dickinson and throughout North Dakota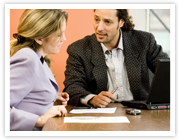 Reliable asset protection is indispensible, since a disaster could strike at any moment, seriously compromising your systems and data. You can't predict the future, but with the right disaster recovery solution, you can get back to business fast, no matter what comes your way.
With the protection of data backup, computer hard drive backup, and complete hardware and system recovery from NRG, businesses like yours in Bismarck, Mandan, Dickinson and throughout North Dakota reap the benefits of total security.
A partnership with NRG Technology Services for Business Continuity Planning and Disaster Recovery means you can:
Stop worrying about the impact of natural and man-made disasters that are out of your control - we deal with all your backup needs
Stop relying on outdated, easily forgotten manual backups - it's only sensible to rely on an up-to-date, continual backup system
Leave nothing to chance - with advanced security in place, your critical customer data is safe
Get back to business fast - if a natural or manmade disaster should strike, you will be up and running in no time
Protect your entire business - we make sure your systems, email, and more are protected and ready for disaster recovery
Prepare for what could be coming, with Business Continuity Planning backup and recovery solutions that safeguard your business from disaster.
NRG Technology Services delivers expert solutions in proactive technology, executed by our team of top- rated professionals. Serving Bismarck, Mandan, Dickinson, Jamestown and throughout North Dakota, we have the data backup, computer network maintenance, and computer hard drive backup solutions to safeguard your business against the threats that keep you up at night.
Whether you need online backup, disaster recovery and business continuity planning, offsite data recovery and backup services, computer recovery and file data recovery, virtual data recovery, computer hard drive and data backup, or remote data backup, you can always rely on us.
Without a secure backup and disaster plan in place, you stand the risk of losing everything you've built. Don't leave your business in danger - invest in a disaster recovery solution to defend it now.