Local Government
Don't let your technology get in the way of your duty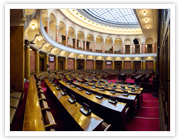 As a government agency, your mission is to serve the public. As an IT service provider with industry solutions tailored to meet government organizations, it's NRG Technology Services's job to serve you – with IT services that allow you to keep up with changing technology, regulations and budgeting challenges.
Government-specific technology services from NRG can help you strengthen and modernize your department, with IT solutions to meet the growing challenges you face and fulfill your unique business needs.
Government IT solutions from NRG Technology Services include:
Contingency plans - security and backup solutions to ensure you're prepared in the event of an emergency
Communications strategies - contact centers and VoIP solutions to improve your response times and enhance client relationships
Workflow solutions - increase efficiency with custom databases, document & file management solutions, and imaging capabilities
Managed Services - to proactively monitor and maintain your network, servers, PCs, printers and mobile devices, and provide support; for a fixed monthly fee. NRG has helped many local government entities to outsource their technology support needs, and provided them with the highest level of response, advice and support.
Our comprehensive government IT solutions give you the tools to improve your agency's internal and external operations, bringing greater efficiency, security and client relationships to your organization.
Let us show you how our IT solutions can bring simplicity to your organization.