On Demand Services
Economical IT Help and Computer PC Repair on your terms, in Bismarck, Mandan, Dickinson and throughout North Dakota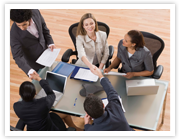 Do IT problems have you looking for reliable support? With computer software help at your immediate service, it gets a whole lot easier to deal with your technology.
NRG delivers the expert computer PC repair and software & IT help that will allow you to see your IT as a valuable investment instead of a liability in your Bismarck, Mandan, Dickinson and throughout North Dakota business
With committed solutions in IT help from NRG Technology Services, you get:
A full service IT department closely connected to your business - experienced support available any time you need
Pay-as-you-go support - only pay for what you need, when you need it
Quick response times - eliminate costly downtime and get you up and running as quickly as possible
Increased market share - gain a competitive edge with greater technical capabilities
On Demand IT Support Services let you keep your powerful focus on running your business instead of the problems that could arise in your technology.
NRG Technology Services provides expert IT support and computer repair only when you need it, so you can enjoy the benefits of advanced technology without worry. Serving Bismarck, Mandan, Dickinson, Jamestown and throughout North Dakota, our computer software help lets you cast the burden of technology, empowering you to stay focused on desired results.
Should your business require software help/upgrade, PC technical support, online computer support, remote/on-site computer support services, computer help, PC & IT help, online PC repair, full PC diagnostics, or hardware repair, we have the answer.
Want to reduce the downtime caused by broken technology? Let us show you how IT help can be quick, reliable and effective.