Office Moves & Wiring
Expert Office Moving and Office Cable Installation for businesses like yours in Bismarck, Mandan, Dickinson and throughout North Dakota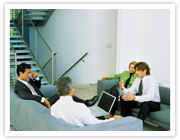 A business relocation is stressful enough without the added complications of transitioning your IT infrastructure. Our office cable installation solutions are customized to meet your specific needs, so you can keep your eye on running your business while we manage the entire scope of your cabling strategy.
The depth of experience brought by NRG, bringing superior office moving and office network cabling services to your business in Bismarck, Mandan, Dickinson and throughout North Dakota, will ensure your precious time and energy will not be lost in the transition.
The expert consultants at NRG Technology Services can provide all of these office cable management services and office moving solutions with minimal downtime:
Cabling Infrastructure - for construction that is both new and existing, including fiber optics
Relocating your Office - along with your servers, workstations, printers, and email
Facilitating your Move - which includes your Website, Internet, telephony, and email
Cabling Blueprints and As-Built Documents - to design a strong foundation for your new network
Whether you need an updated cabling strategy or a plan to move your whole office, our experts have a solution.
Combining our vast experience with business and technology, the experts at NRG Technology Services bring sound solutions in cabling services that are scalable and adaptable. Serving Bismarck, Mandan, Dickinson, Jamestown and throughout North Dakota, office cable management services give your company the opportunity for greater growth and productivity.
We have experience in office move planning, cable equipment/server racks, IT relocation management, cabling analysis & design services, network cabling installation, office cable management, structured computer & data cabling, or relocation consultancy, so whatever your needs, we have the answer.
Achieve your business goals with a cabling strategy that will support your company with dependability and scalability. Discover how our office cabling services and office moving planning can simplify the process of upgrading or relocating your business.